Photo Gallery
On May 15, Prof. Meng Joo Er and Prof. Shiqian Wu made an opening remarks and welcome address respectively.
会议于5月15日上午在武汉开幕。会议开幕式由伍世虔教授主持,会议伊始,大会主席,大连海事大学余明裕教授致开幕辞,希望各位专家的精彩报告与讨论将加强领域了解、促进合作,对此次协助单位表示感谢,对大会的召开表示了衷心的祝愿。
On keynote speeches session, Prof. Gary G. Yen (IEEE Fellow), Prof. Jonathan Garibaldi (IEEE Fellow), Prof. Mohamad Sawan (IEEE Fellow) and Prof. Zengguang Hou (IEEE Fellow) delivered excellent speeches.
在主旨报告环节,大会邀请到IEEE会士, 美国俄克拉何马州立大学Gary G. Yen教授,英国诺丁汉大学Jonathan Garibaldi教授,西湖大学Mohamad SAWAN教授和中国科学院自动化研究所侯增广教授,分别作了精彩报告。
另外大会还邀请了行业内优秀的学者专家做特邀报告,包括北京航空航天大学严亮教授、中国科学院深圳先进技术研究院周翊民教授、西安交通大学张小栋教授、大连海事大学付先平教授和中国科学院宁波工业技术研究院先进制造所杨桂林教授。 并就"AI and Robotics" 为主题的小组讨论跟与会者进行了热烈的提问交流。
Moreover the conference was composed of 9 technical oral sessions, topics covered, for example, Intelligent Robot Design and Development, Control Theory and Applications, Intelligent Algorithm and Computation, Image Segmentation, Unmanned System and Navigation and so on. Each parallel session went through smoothly and "Best Students Presentation" &"Best Presentation" award was issued at the dinner banquet.
此次会议丰富多彩,除了主旨报告和邀请专家报告外,还组织了论文宣讲等活动,为参会的老师、学生、企业技术专家等提供了深入交流的机会。会议组委会通过评比,颁发了"最佳学生报告奖""最佳报告奖",得奖人均获证书嘉奖。
| | | | |
| --- | --- | --- | --- |
| | | | |
| Session 1 Best Student Award - Man Li | Session 2 Best Student Award - Tianxiao Cui | Session 3 Best Student Award - Chunping Zhao | Session 5 Best Student Award - Wenjie Lu |
| | | | |
| Session 6&9 Best Student Award - Qiushi Yang | Session 7 Best Student Award - Ting Pan | Session 8 Best Student Award - Ruoyun Zeng | Sessions Best Student Award - Group Photo |
| | | | |
| Session 2 Best Presentation Award - Zhao Guo | Session 5 Best Presentation Award - Meng Joo Er | Session 7 Best Presentation Award - Shaobao Li | Sessions Best Presentaton Award - Group Photo |
Conference Proceedings
ICoIAS' 2021 - IEEE | ISBN: ISBN: 978-1-6654-4195-7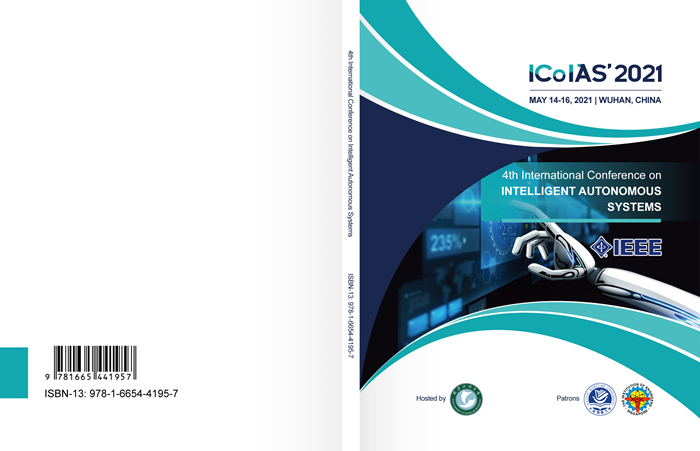 ICoIAS' 2021 Conference Proceedings - Cover