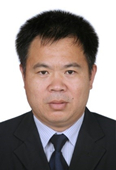 Prof. Xiaodong Zhang | Xi'an Jiaotong University, China
张小栋教授 - 西安交通大学
Biography: Professor Xiaodong Zhang received the B.E. degree in Energy and Power Engineering from Xi'an Jiaotong University, Xi'an, China, in 1989, and the M.E. and Ph.D. degree in Mechanics from Xi'an Jiaotong University, Xi'an, China, in 1992 and 1996, respectively. From 1996 to 2010, he was a Teacher, and in 1999 promoted as an Associate Professor in school of Mechanical Engineering, Xi'an Jiaotong University, Xi'an, China. Since 2011 he has been a Professor, and now is a deputy director, Institute of Robotics and Intelligent Systems with school of Mechanical Engineering, Xi'an Jiaotong University, Xi'an, China.
Professor Xiaodong Zhang was a Visiting Scholar in Department of Mechanical and Medical Engineering, University of Bradford, UK, about three months from 2001 to 2002. He was a Researcher in School of Mechanical Engineering, Sungkyunkwan University, Korea, about two years from 2003 to 2005. He was a visiting professor in the Lab on Intelligent robotics, Michigan State University, USA, about one month in November, 2010, and in the Lab on the Control and Intelligent Systems Engineering, University of Hull, UK, about 3 weeks in October, 2011, and in School of Industrial and Systems Engineering, Georgia Institute of Technology, USA, about 2 weeks in July, 2017, and in the Lab on Mechatronics and Intelligent robotics, University of Essex, UK, about 6 months from 2019 to 2020, respectively. Furthermore, he was a lecture professor funded by K. C. Wong Education Foundation in Department of Industrial and Manufacturing Systems Engineering, The University of Hong Kong, Hong Kong, about 2 weeks in December, 2018.
Professor Xiaodong Zhang has published more than 100 papers, include 30 papers indexed by SCI & about 50 papers indexed by EI, and won 20 Patents of invention & 10 Design Patents, and served as an Associate Editor of Journal of Mechanical Science and Technology & Editor of Intelligent Service Robotics. He won best paper award of the 2008 International Conference on Rehabilitation in China, best session paper award of CCCT 2010 in USA, best application paper award of IEEE URAI 2016 in China, outstanding paper award of IEEE URAI 2017 in Korea, finalist best paper award of IEEE CYBER 2019 in China, respectively. He served the IEEE NEMS 2015 as the local arrangement chair, the IEEE URAI 2016 & URAI 2017 as a program co-chair, and the IEEE CYBER 2020 as the General Chair. His recent research interests are Robotics and Intelligent System, Bio-mechatronics technology, EEG/EMG signal processing and its application on robotics, intelligent measurement and control technology, etc.
Title of Speech: Research on the EMG-based Fine Perception and Human-Machine Interactive Control Methods for Lower Limb Rehabilitation Training Robot
Abstract: With the development of robot technologies, traditional human assisted rehabilitation training has been gradually replaced by robot assisted rehabilitation training which has the advantages of movement controllable, high repetition, high training density and so on. However, due to the lack of an effective human-machine interaction interface as well as an interactive control technique, the rehabilitation robot which can provide a safe, comfortable and natural training environment is fewer. In addition, how to improve the patients' active participation in training process is always a technical problem and need to be solved urgently.
The bioelectric-based human-machine interface established a direct communication and control channel between the human and the collaborative object (robot, et al.) as well as the environment and it provides new ideas for the study of human-machine interaction and interactive control of lower limb rehabilitation training robot. In order to improve the human-machine interaction performance and achieve synchronous active body weight supported treadmill training, surface EMG based fine movement perception and interactive control methods are presented in this talk as follows.
1) A method for surface EMG based human's gait events fast recognition
2) A method of surface EMG decoding for continuous joint angles of lower limb
3) A method for quantitative prediction of human's active joint torque
4) The interactive control methods of lower limb rehabilitation training robot based on surface EMG
Finally, the experimental system of lower limb rehabilitation training robot is designed, and the servo motor type determination and the control system design are discussed detailed. Based on this, the trajectory tracking control experiment without load and the normal human passive walking control experiment are carried out. The experimental results validate the precision of structure design and the accuracy of the control approach.